Introducing Custom Giving Pages
November 4th 2016 Online Giving
We're pleased to announce our new Giving Pages feature now available for all churches. If you have yet to sign up for Online Giving please contact us today. We would love the opportunity to schedule a product walk through with your staff members. In this shoort article we're going to overview the Online Giving Giving Pages feature and how it can be used for your church website.
What are Giving Pages by Online Giving?
Giving Pages by Online Giving is a new feature to allow churches to optionally create additional donation pages and have those pages be dedicated to one or more specific funds. Over the years we have found that some churches with a large amount of funds do not wish to clutter their main donation form with mission destination choices. Instead each churches can now create a custom giving page dedicated to each mission or to missions in general. Churches may name the giving page with a custom title, change the labels of their fund/sub-funds dropdowns and select one or more specific funds for donor selection. Further each giving page has it's own link that can be placed on the church website or emailed to donors. Churches may also choose to optionally display the giving page on their giving website navigation. Although the new feature is simple it allows churches to create dedicated mission donation pages in a matter of moments.
Preview of Create Giving Page Form:

Preview of Giving Page Displayed to Donor: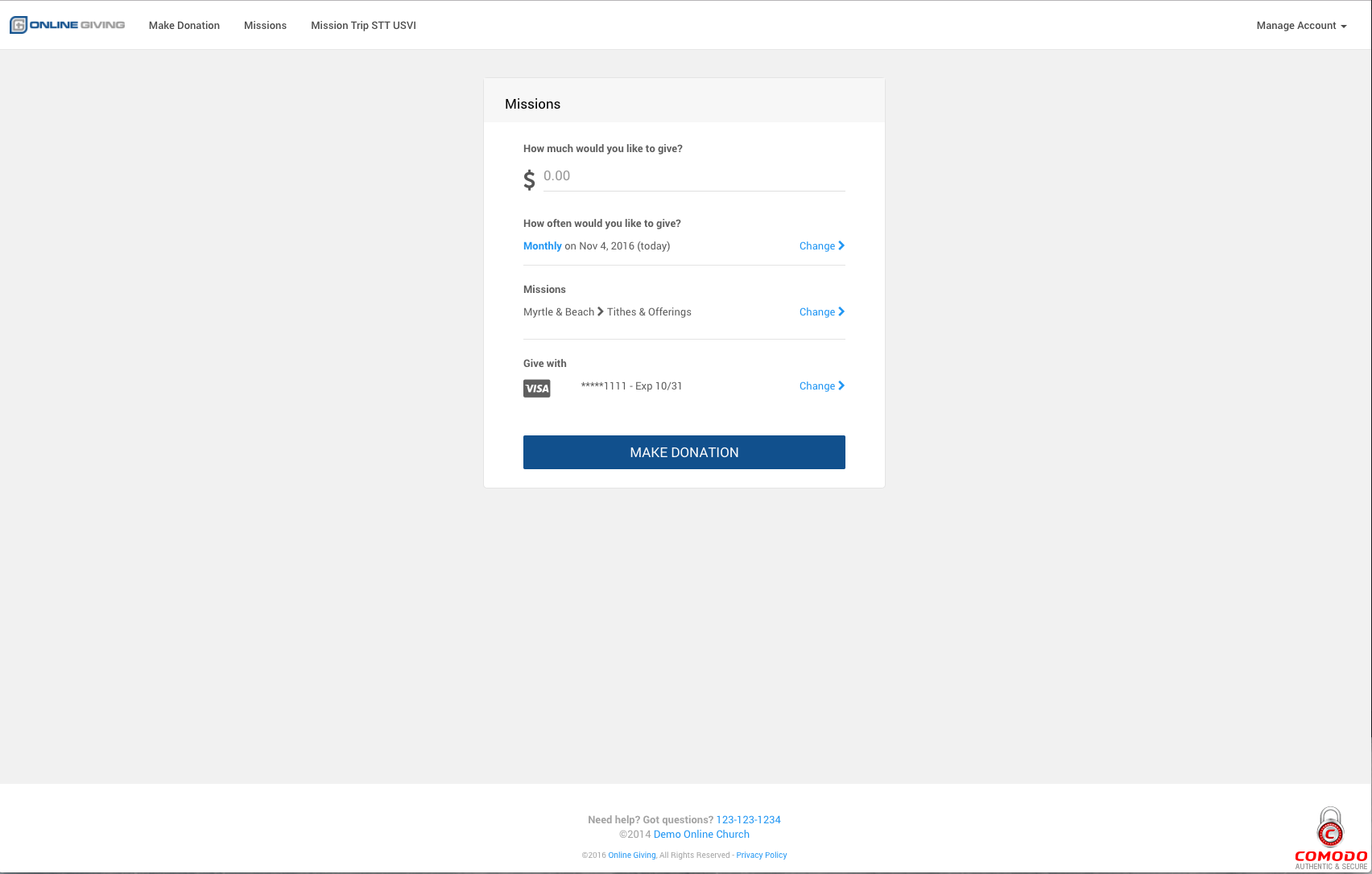 Giving Pages vs Custom Forms?
Online Giving supports create both giving pages and custom forms. They similar features but both serve a different purpose. Those churches who desire to quickly create a seperate giving page for one or more funds should use Giving Pages. Custom forms do allow churches to select a fund/sub-fund on a custom payment page. However, custom forms are different in that a church can create questions, form sections, images and videos and much more. Each feature is simple but powerful. We recommend using giving pages when you simply need a seperate giving page for one or more funds and recommend custom forms for those churches who need a pledge drive or mission donation page with additional questions besides basic donation information.
We're pleased to announce our new Giving Pages feature for churches. More info https://t.co/KuNfTGitsG

— Online Giving (@onlinegivingorg) November 4, 2016