Introducing Embedded Giving
March 4th 2016 Online Giving
We're pleased to announce our new Embedded Giving feature now available for for all churches. If you have yet to signed up for Online Giving please contact us today. We would love the opportunity to schedule a product walk through with your staff members. In this article we're going to overview embedded giving and how it can be used for your church website.
What is Embedded Giving?
Embedded giving is a new way to securely embed Online Giving directly into your church website for a seamless look and feel with your website template. We designed our embedded giving solution to be easy to use and to embed. Using embedded giving is optional and is intended only for churches who do not wish to direct link to Online Giving. Our embed tag is easy to use and creates a responsive giving experience for your donor directly on your website.
(click image below for large example)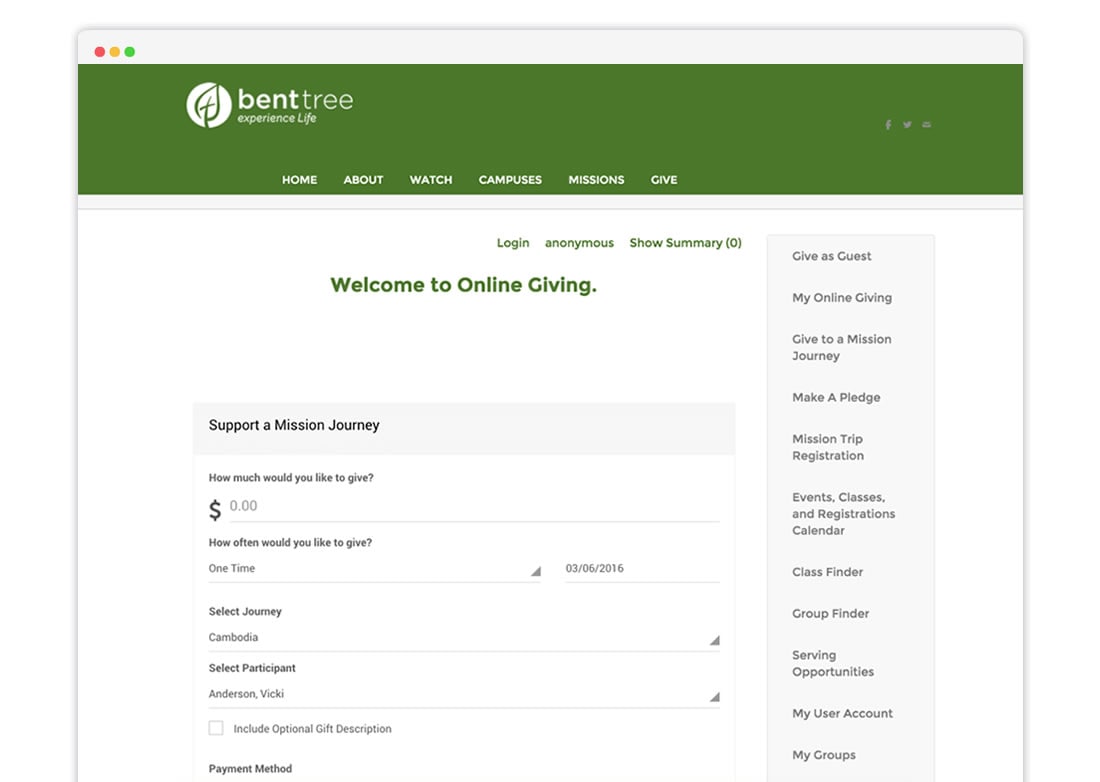 How does Embedded Giving Work?
Using embedded giving you can seamlessly display any of the Online Giving pages as part of your website. Embedding is easy and in most cases can be completed in 15 mins or less. Full documentation is located on our developer documentation. Our embed tag allows secure framing of Online Giving content pages into one or more pages of your website. The Online Giving website header/footer and navigation is not displayed on embedded pages. All of the framing and security is handled by our embed tag which makes installation a breeze for developers.
What's the difference between direct linking and embedded giving?
Embedded giving is a great solution for churches who would like giving as part of their website while not having to pay to develop and maintain a custom giving system. Currently we offer both direct linking and embedded giving. We recommend direct linking in almost all cases. However, our secure embed giving option allows you control to place web giving directly inside your website to prevent donors from having to leave your website for gifts. There are some important things to note when using embedded giving. First the donor giving and gift management pages are securely loaded from Online Giving using a seamless frame solution. All of the framing is handled automatically by our embed tag with a simple update to your HTML template or CMS page. Second, all of the features of direct linking are also on embedded giving such as guest giving, one-time and recurring giving and more.
Do I need to use SSL/TLS (HTTPS) on my website payment pages?
Yes, any page that contains the Online Giving embed code will need to be accessed by the donor from a SSL/TLS secured page. Meaning, your church website will need to install and use a SSL certificate before using Online Giving's embed option for a couple of reasons:
It's more secure. Having a SSL/TLS (HTTPS) embed page reduces the risk of being exposed to a man-in-the-middle attack.
Most donors will check the parent website address bar for a green icon and HTTPS to feel secure.
Don't want to mess with installing a SSL certificate? Please use direct linking. It's our default and recommend method of linking giving from your website. All of Online Giving embed pages will load over SSL/TLS (HTTPS) automatically. However, it's important that the parent website also maintain a SSL connection for optimal security.
Embedded Giving with the MP Portal:
We are pleased to announce both embedded giving and the combination of embedded giving with MP portal single sign on. It is now possible to seamlessly and easily embed Online Giving directly into your MP portal website so your donors do not have to leave your website to make a donation. The donation pages are designed to fit into your existing MP portal template and appear seamlessly part of your page. Using our new custom embed tag you can now add online giving to your MP portal website in under 15 mins with a simple MP skin update. Contact us today for a how to video and/or to schedule our update service for your MP portal website.
Embedded giving allows the freedom to MP churches who wish to have online giving directly on their website. Our secure giving system embedded directly into your MP portal website with your sign-in/registration pages. Online Giving is the first and only giving service provider to offer such level of integration with Ministry Platform. You asked for it and we promptly delivered. Don't want to embed? No worries, this feature is optional and only recommended for churches who maintain an active SSL certificate and offer a responsive website template for an optimal mobile giving experience. We still recommend using direct linking for almost all cases. But the freedom of choice is yours!
Embedded Giving Custom User Authentication (aka Single Sign On):
We are pleased to offer custom user authentication with our embedded giving solution. Custom user authentication integration allows online giving to live behind your website sign-in/registration pages. Guest giving can still be public while registered giving is redirected to your website lock screen. Contact us today if you are in need of a custom user authentication integration. We shall be happy to work with your developer to provide an integration that fits your giving goals. Custom user authentication isn't required and only recommended for those churches who heavily rely on their own sign-in/registration system for church member authentication/management. Online Giving by default offers a wide range of sign-in/registration options including username/password, Facebook sign-in, Google sign-in, Fellowship One sign-in and Ministry Platform sign-in. We recommend that most churches use our sign-in/registration pages as they are streamlined and allow for quick access to recurring giving. However, the freedom of choice is yours and we welcome any integration level that you may require.
---
Introducing embedded giving, a new way to securely embed Online Giving directly into your church website. More info https://t.co/tkik7CrZYE

— Online Giving (@onlinegivingorg) March 4, 2016