Recurring Donations User Guide
January 29th 2018 Online Giving
In this article, we'll overview recurring donations with Online Giving from the donor's website.
Recurring Donations User Guide
---
Online Giving was designed to make recurring giving easy and fun. For the church recurring giving can be a lifeline especially during low attendance months. Recurring giving gently promotes regular tithing as the donor doesn't have to remember to log in and make a gift. Our software platform was designed to remove as many barriers as possible from the donation experience to reduce the number of form inputs and information a donor must digest prior to completing their act of generosity. Making a recurring gift with Online Giving is as simple as picking the repeating interval such as weekly, bi-weekly, monthly, etc.
Recurring giving is offered on all of our giving methods from website giving, mobile giving, tablet giving, swiped kiosk giving, text message giving, Facebook Messenger giving, native mobile application giving and more. No matter what method of giving the donor chooses the software platform will always offer recurring giving. In the event, a donor makes a one-time donation the platform will gently ask the donor on the "thank you" page if they would like to convert their one-time gift into recurring. Converting a one-time gift into a recurring is as easy as selecting the repeating interval (weekly, bi-weekly, monthly, etc) and clicking submit.
Like bill pay at a bank, Online Giving allows both one-time and recurring donations to be scheduled to start same day or on a future date. The date flexibility allows donors to create a recurring gift to start on a specific date in the future for planning their donation around a paycheck deposit or similar.
Donors can easily sign-in and manage their recurring gifts directly using the Recurring Donations page under the Your Account drop-down menu in the top right of the donor website. From the Recurring Donations page donors may edit their recurring (or future scheduled gifts) to change the date, gifts amounts and frequency. Additionally, if needed donors can easily cancel their recurring gift while editing the schedule using the cancel button.
The goal is to provide many different options for creating recurring donations on all giving methods while having a centralized place for donors to access and manage their recurring giving. Church administrators may also set up and manage recurring giving for donors directly from the control panel.
Recurring Donations User Guide Sections
---
Got questions or need help? We are here to help. Contact us today for assistance.
How to Make a Recurring Donation
---
Recurring giving can be the lifeline to churches for regular giving. Donors can easily set up recurring giving using Online Giving:
Enter Gift Amount
Click Give Recurring button on below gift amount
Select Recurring frequency when prompted
Click Make Donation
How to Make a Future Scheduled Donation
---
Similar to bill pay at your local bank donors may easily set up one-time or recurring future scheduled gifts:
Enter Gift Amount
Click Payment Date drop down above Make Donation button
Select desired Payment Date from calendar picker
Click Make Donation
How to View Recurring Donations
---
Donors may log into their giving website to view their and manage their recurring donations at any time: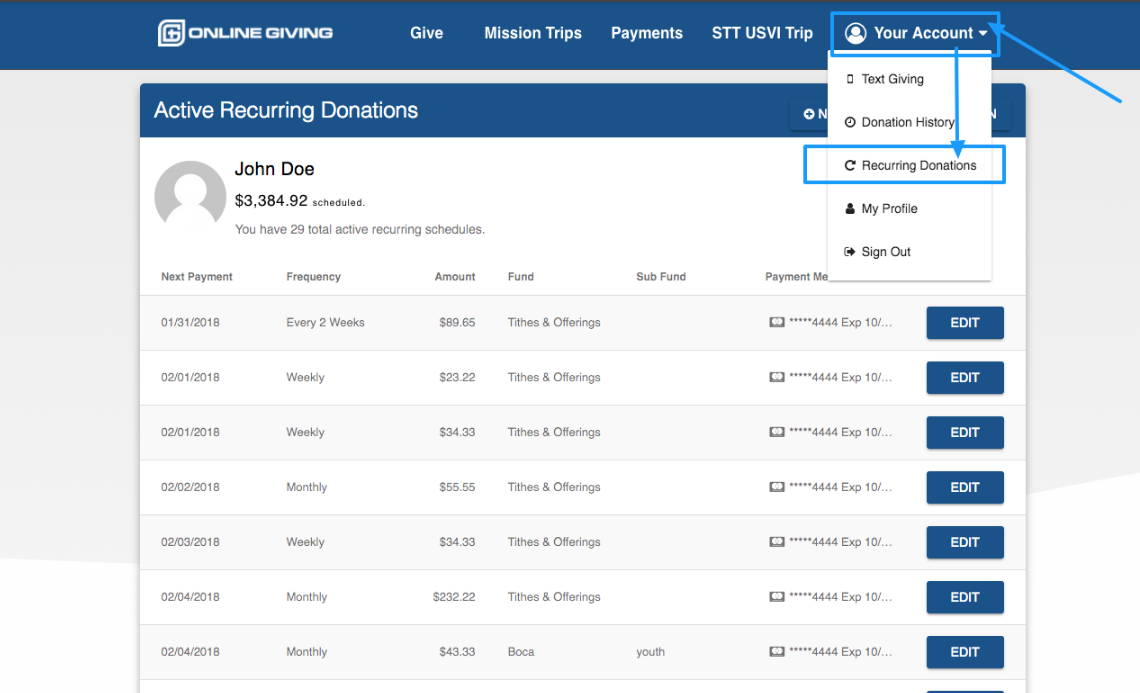 Log In to Giving Website
Click "Your Account" from top right of page
Select "Recurring Donations" from drop-down menu
How to Edit Recurring Donation
---
Donors may log into their giving website to edit their recurring donations at any time:
How to Access Recurring Donations Page: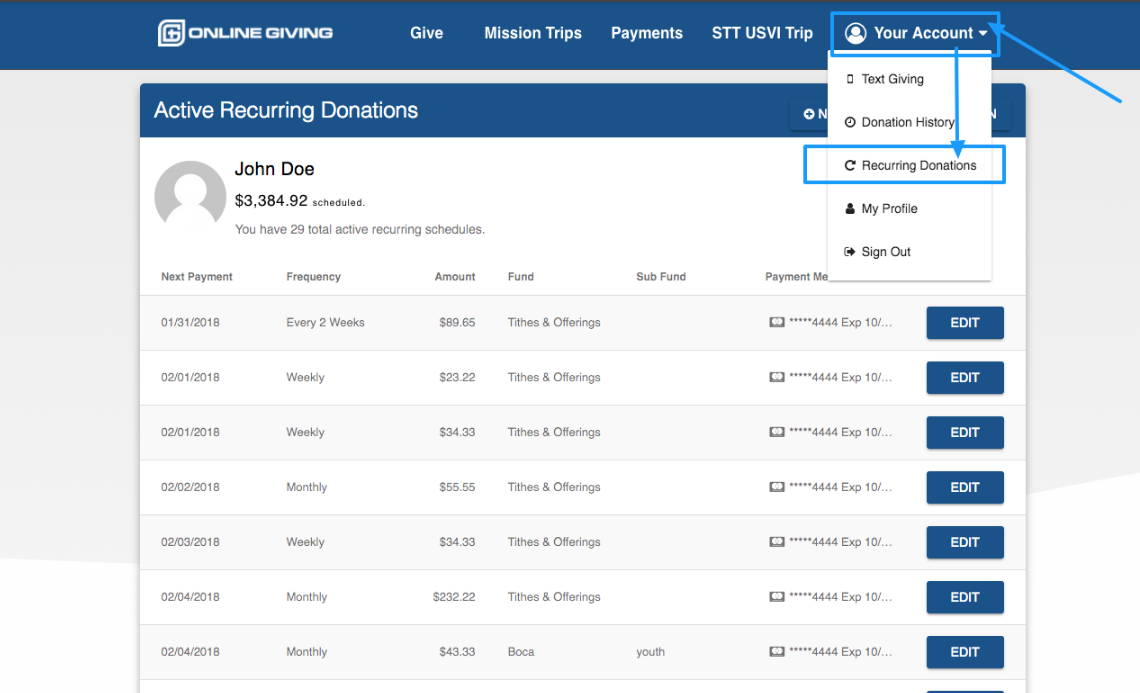 Overview of Edit Recurring Donation Page: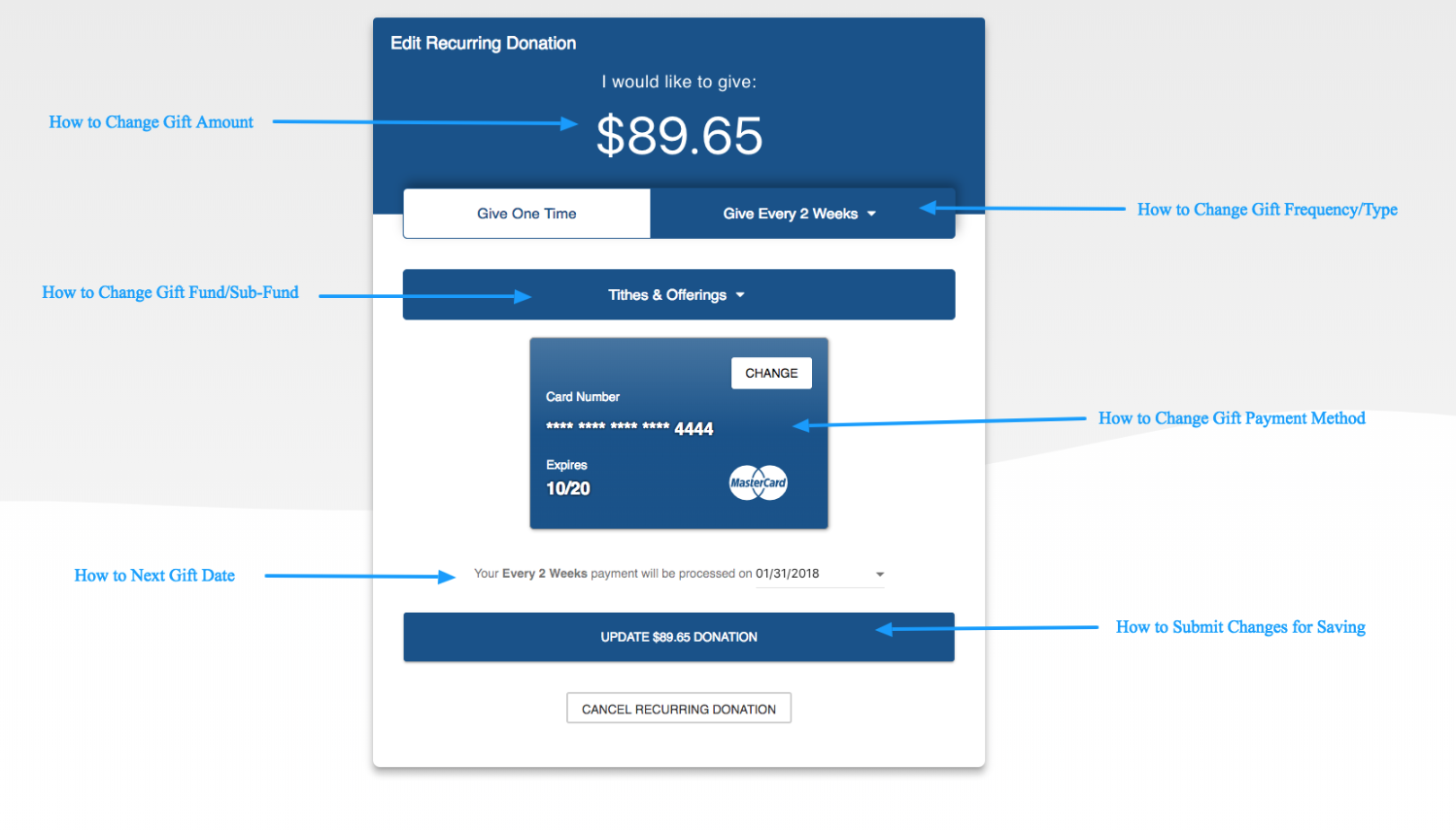 Log In to Giving Website
Click "Your Account" from top right of page
Select "Recurring Donations" from drop-down menu
Click "Edit" button in recurring gift row
If needed change gift amount (see edit recurring donation image above)
If needed change gift recurring type (see edit recurring donation image above)
If needed change gift fund/sub-fund (see edit recurring donation image above)
If needed change gift payment method (see edit recurring donation image above)
If needed change next gift date (see edit recurring donation image above)
Click "Update Donation" button to Save changes
How to Cancel Recurring Donation
---
Donors may log into their giving website to cancel their recurring donations at any time:
How to Access Recurring Donations Page: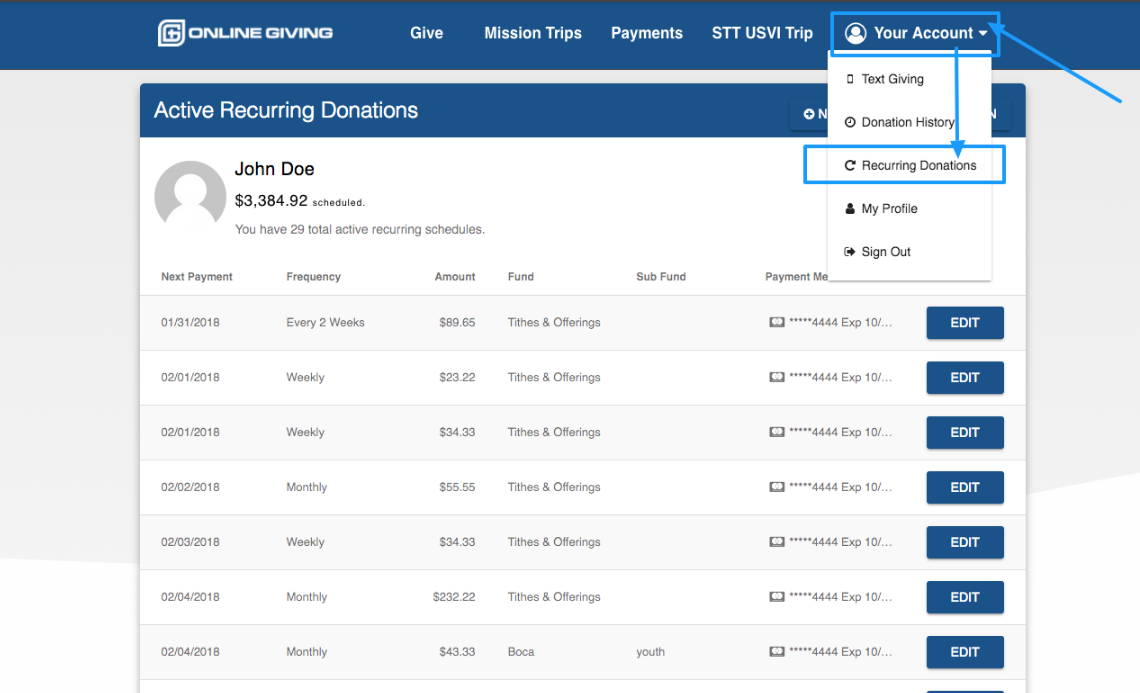 How to Cancel Recurring Gift from Edit Gift Page: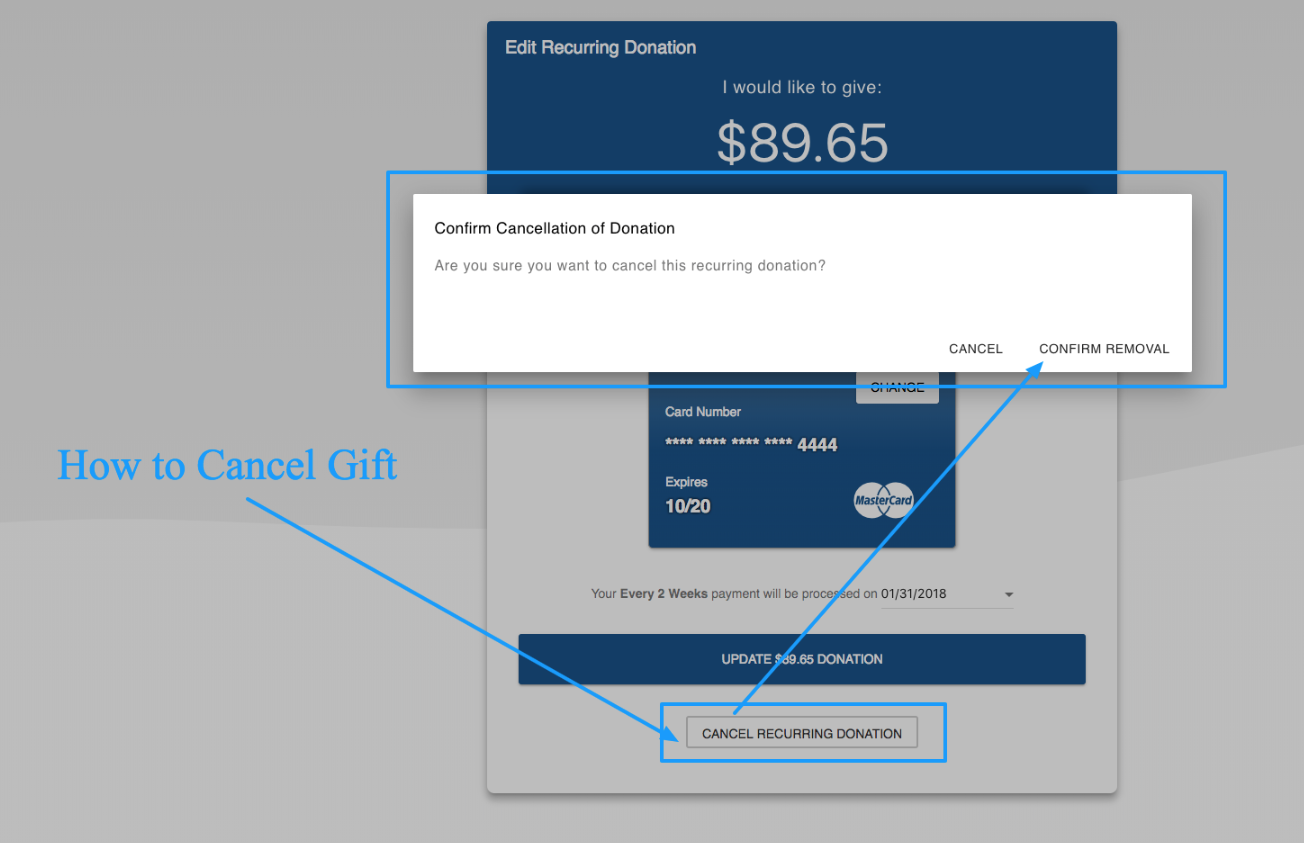 Log In to Giving Website
Click "Your Account" from top right of page
Select "Recurring Donations" from drop-down menu
Click "Edit" button in recurring gift row
Click "Cancel Recurring Donation" button on bottom of page
Click "Confirm Removal" to confirm cancellation